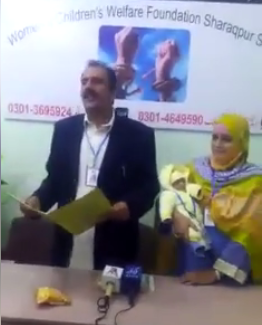 The deliberate effort of Women & Children's Welfare Foundation saved the life of   a newly born innocent child in a merciless world that nobody was ready to give it her fatherhood.
The victim of rape case the maid put her child in the cradle hanging outside the office of the foundation. This poor child has become the centre of attention of all the men and women of the city Sharaqpur Sharif.
The president of viagra without a doctor prescription usa the foundation M. Jamshed Rafiq Malik said in a press conference that foundation announces to adopt this child according to its agenda. The foundation will make the child a respectable and honorable citizen of the society giving her best education and upbringing, he said.
The child has been given the name Bint e Hawa.He further said that in the womb of the mother the invisible hands of nature infused a life in the drop, now has become a complete a living human being in the world. Whatever its identification may be, to despise the being full of life would be the denial from the greatness of the Great Creator.
It is an unpardonable and heinous crime legally to kill the innocent soul and from the fear of society.
No law and religion of any country allows killing the infants intentionally. Foundation will accept these children and regard them as honorable ones. Such flowers and petals that born in dirty ponds really deserve can love and care. They come into human market without any title. Guilty is not the gander but the company and firm which did not give it any name.
Woman & Children's Welfare Foundation will accept such rejected children. For God' sake don't kill these harmless creatures. Put them in the cradle hanging outside the office of Woman & Children's Welfare Foundation in the darkness of the night and disappear.
To educate and make them a good citizen and put them on the path of bright future is the responsibility of the foundation.