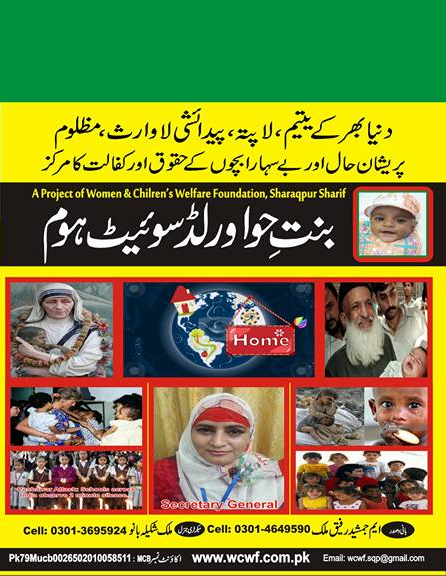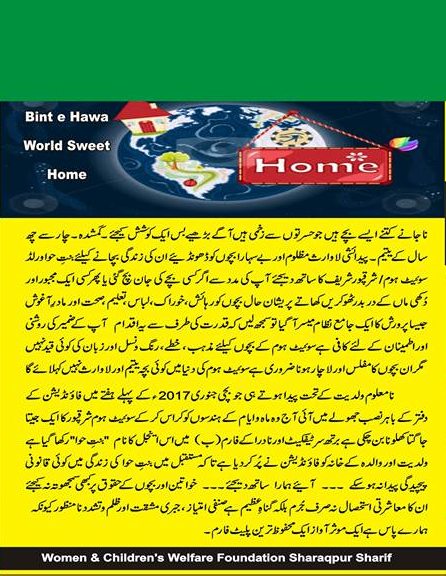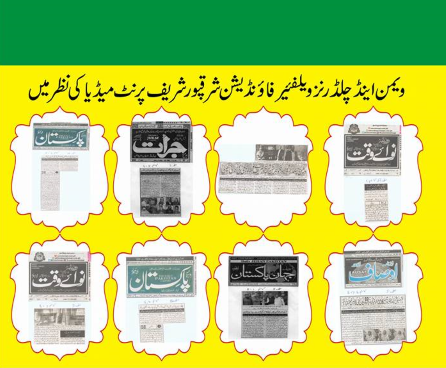 There are numberless children who are injured with desperations. Come forward and try for once. Find the lost and orphan-helpless children and support "BINT E HAWA SWEET HOME FOUNDATION SHARAQPUR SHARIF" to save their life. If your help saves the life of a child or provides a sufficient system of accommodation, food, clothing education and motherly affectionate atmosphere then it will be enough for your spiritual enlightment and satisfaction.
There is no restriction of religion, continent, color, or creed and language in the world of sweet home. No child will be called orphan and heirless in the world of sweet home.
The little infant born in the first week of January 2017 under unknown fatherhood came in the office of Bint e Hawa foundation has become a living toy of sweet home Sharaqpur Sharif has been given the name of Bint e Hawa in her birth certificate and b form of NADRA. The blocks of father's and mother's names have been filled by the foundation so that no legal complication may arise in the future of that angel. Come and support us. Never compromise on the rights of women and children. Their social exploitation is not only a crime but a grave sin also. Gender discrimination, forced labor, and cruelty are unacceptable because we have an effective and the most secure platform.